Bronson's Mega Puffs, Neshannock Twp., PA
by Bronson's Mega Puffs - 1 month ago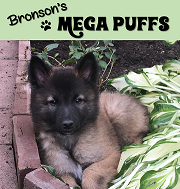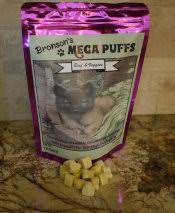 Bronson's Mega Puffs launched in June 2020 right at the beginning of the pandemic. "After almost a year of research and development, my goal was to launch these treats on June 1st. That date was a MUST for me. I couldn't wait until the unknown of the pandemic to be over. I didn't want our special dogs to do without any longer." June was an important date for creator and owner, Rachel Contreraz for a specific reason, June is Megaesophagus Awareness month. "Megaesophagus is what brought me to this point, it was serendipitous, pandemic or not", she continued.

The Neshannock Township resident had no idea what Megaesophagus was when their 8 week old Belgian Tervuran, Bronson was diagnosed with the condition after casually mentioning the pup continually threw up at a routine vet appointment. Rachel explains, "when he was diagnosed, our first internet search about Megaesophagus was so frightening; it sounds like a death sentence. We were in shock. We had already had Bronson a couple of weeks and just giving up on our newest family member wasn't even a consideration. We ordered him a Bailey chair (which is conceptually a high chair) for him to eat and rest in after his feeding. We thought that was all we had to do to manage his condition. We were so naive. We didn't know anything about the different methods of feeding, Aspiration Pneumonia and all of the other problems that come along with ME." She continues, "then within a few weeks, we realized Bronson was acquiring some naughty puppy habits; we enrolled him in a puppy class and it was impossible to get and keep his attention when all his puppy buddies were getting treats which he couldn't have. We couldn't give him a command, get him in his chair, give him a treat, wait 25 minutes and do it again. It didn't make any sense and couldn't risk him regurgitating with conventional dog treats." Bronson didn't respond with toys, affection or praise. At the suggestion of online support groups, they tried baby treats with no luck. Rachel explains, "at the end of class, he would regurgitate a big ball of mush. It was the rice flour of the baby treats mixed with his saliva. Gross, plus they had added sugars which I knew wasn't good for him." "Bronson is completely motivated by food and letting his bad habits continue were out of the question", her husband Dave adds, "so I challenged her. I mentioned casually it's was too bad she couldn't find a way to make a treat that works for Bronson, ones that aren't sweet potato or banana. I knew that would get to her, Rachel thrives for challenges and loves researching stuff!" Needless to say, that's all it took.

In the end, Rachel created treats for Bronson and decided offer them to other Megaesophagus pets. "Once my primary taste tester, Bronson approved of them I knew I had to share them with all the other pet parent who were struggling with the same conflict I had", Rachel shares, "Since so many of the Megaesophagus sufferers have additional issues such as Myesthenia Gravis and severe food allergies, I had to make these treats as wholesome as possible. The majority of the protein sources are locally sourced and all are either organic, grass fed or pasture raised. The bacon is uncured and nitrate free and the vegetables are organic. They are a bone broth based, freeze dried treat so they completely dissolve into a liquid once introduced with the dog's saliva. There is no solid for our pups to regurgitate."

Bronson's Mega Puffs currently offer two flavors; Bacon & Eggs and Beef & Veggies with additional flavors to follow. "I can't wait to introduce more flavors possibly even a vegetarian option for pets that have protein sensitivities", Rachel vows. Since launching in June 2020, Bronson's Mega Puffs has become a fan favorite for Megaesophagus dogs, even some cats and has reached pet parents from the US, Canada, Germany, Australia, UAE, India and more as well as some retail locations. "We're super busy and I love that we're helping so many pets have treats again that had been going without until now. It's so fulfilling" Rachel says with a huge smile.