Remember folks, it goes over the nose...
by MASKS4 - 1 month ago

MASKS4 

We make and sell masks AND give back to the community - all in the Mahoning Valley.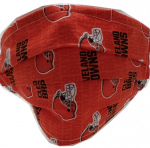 Our "made by American hands" masks come in an assortment of fabrics so you can have a mask for every occasion! A portion of our profits goes to charities in the Mahoning Valley. More information can be found on our website below. ORDER YOURS TODAY!